How to Prepare Perfect Avocado Chicken Cobb Salad
Avocado Chicken Cobb Salad. Full of high flavors, Smoked Chicken Cobb Salad with Avocado Dressing will become your new favorite salad. Be sure to check out our innovative method for indoor smoking on your cooktop. Avocado chicken salad with avocado, chopped cooked chicken, apple, celery, and onion.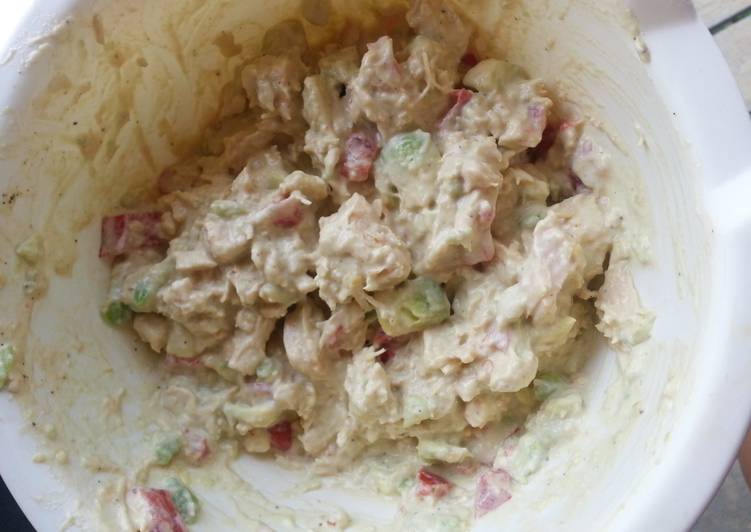 Chicken cobb salad easy simple, healthy and delicious summer salad. Made with parmesan chicken, avocado, tomato, cucumber for dressing I use: olive oil and. The dressing for this chicken cobb salad is made lighter and low calories by substituting the mayonnaise for greek yogurt and avocados. You can have Avocado Chicken Cobb Salad using 7 ingredients and 1 steps. Here is how you cook it.
Ingredients of Avocado Chicken Cobb Salad
You need 2 of Avocados.
It's 2 of 12.5 oz. Cans of Chicken.
It's 1 of Tomato.
It's 1 of Minced Onion Flakes.
It's 1 of Salt and Pepper.
Prepare 2 1/2 tbsp of of Mayo.
It's 1 of Bacon cut to your liking.
This means that you can drown your salad in dressing! The main ingredients in the dressing are avocado, greek yogurt, olive oil, jalapeno, blue cheese and. Take chicken salad to a new level with the addition of avocado. This naturally creamy chicken and avocado salad is healthy and contains no mayo or sour cream.<br />.
Avocado Chicken Cobb Salad step by step
Mix all ingredients and enjoy :).
Grab the recipe for this Chicken Fajita Cobb salad - it's a main course salad loaded with your fav ingredients from fajitas topped with a lemon vinaigrette! The cobb salad is a main-dish American garden salad that's created with chicken, bacon, eggs, avocado, tomato, red onions, blue cheese, and drizzled with a tangy red wine vinegar dressing. When you're looking for a meal that will satisfy your hunger, a classic Cobb salad recipe has everything you. A healthy chicken Cobb salad with a traditional Cobb salad dressing is a hearty and complete keto meal. There is a nice study aid to help one remember the ingredients of this healthy Cobb Salad — EAT COBB: egg, avocado, tomato, chicken, onion, bacon, blue cheese.